The Fluid Power Trainer is a multi-media computer-based training module design to instruct the user in basic fluid power principles.
1
Includes
Fluid Power Symbols & Schmatics
Cylinders
Control Valves
3-Way & 4-Way Valves
4-Way & 5-Way Valves
Pumps
Misc. Components
Trouble Shooting.
2
Sample Screen-shot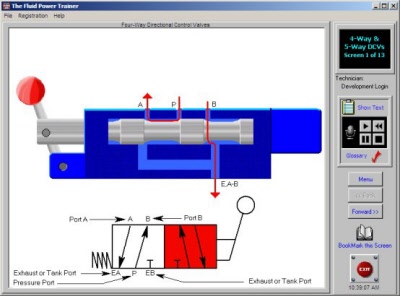 ---
In Good Company
When you order from CMH Software you'll join the thousands of customers that use our software. Our customers include Fortune 500 companies, schools and universities, electricians, contractors and various IBEW/JATC/IEC training centers. Our flagship software, The Constructor, started in 1994 as a DOS version and now 20 years later we are currently at version 12 and still going strong thanks to you, our customers.